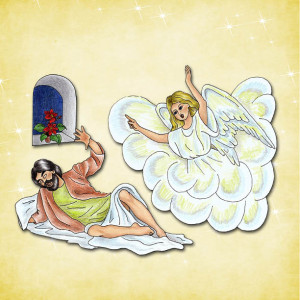 Joseph had made up his mind not to marry his pregnant fiancée Mary. He would divorce her quietly. (See Matthew 1:18-19) But God's hand was on Joseph and Mary and the baby she carried. Joseph went to sleep thinking about what he would do when God sent an angel to speak to him in a dream.
Read about it in Matthew 1:20-24. The angel told Joseph not to be afraid to take Mary as his wife, and assured him that her baby was conceived by the Holy Spirit. Joseph was told to name the baby Jesus because he would save people from their sins.
The writer of Matthew also tells us that Isaiah foretold this hundreds of years earlier when he wrote that a virgin would have a son and the people would call him Immanuel which means "God is with us."
Joseph believed the angel's message and took Mary as his wife, but he did not have sexual relations with her until after baby Jesus was born.
One must admire Joseph's courage. People would surely draw their own conclusions about what might have happened between him and Mary concerning their first child, but he would stand by her and her baby.
Click here to see a video on YouVersion about Joseph's dream.
For younger children The First Christmas, by Janice D. Green, illustrated by Violet Vandor.