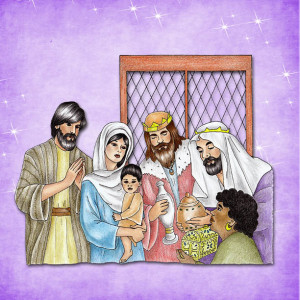 The wise men left King Herod in Jerusalem and started toward Bethlehem when they spotted their special star ahead of them in the sky.  Read it for yourself in Matthew 2:9-12.
What joy! The wise men were delighted to see their star, and it lead them to the very house where they found Mary and the Christ Child. They bowed down and worshiped the child and presented their gifts of gold, frankincense and myrrh. The wise men's long journey and faithful search was rewarded as God led them directly to the Christ Child.
A careful reading of these verses tells us that when the wise men came, Mary and Joseph were living in a house, certainly better living quarters than the stable where Jesus was born. And it doesn't take much reflection to realize that the wise men didn't arrive the night Jesus was born. They saw the star from their homeland hundreds of miles away. There were no fast modes of travel in those days. We don't know how long it took the wise men to make this journey. Reading ahead in the Matthew passage through verses 16-18, we find reason to believe Jesus might have been as much as two years old by the time the wise men arrived.
Click here for a video of The Three Wise Men. We love the many beautiful reenactments of the birth of Christ and the events surrounding the birth as they present the traditional story. But if we are serious about communing with God, we will not settle for what we learn from public media and traditional retelling. True wise men will seek God in the Scriptures that have held true through the centuries.
I wrote about Christmas hymns and carols in a post on another blog a few weeks ago pointing out more reasons why we need to trust the Bible instead of public knowledge about matters of our faith. Click here to read the post.
For younger children The First Christmas, by Janice D. Green, illustrated by Violet Vandor.