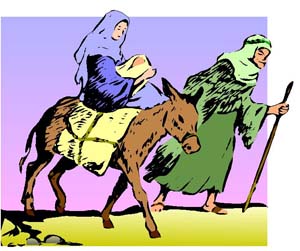 After the wise men left, Joseph was again visited by an angel in a dream. This time the angel warned Joseph to get up and flee from Bethlehem. Read it for yourself in Matthew 2:13-18.
"Get up," the angel said, "and flee to Egypt." In Joseph's dream the angel told him of Herod's plan to destroy their child. If Joseph thought traveling from Nazareth to Bethlehem was a long trip, the idea of traveling to Egypt must have been overwhelming. But Joseph and Mary wasted no time in leaving for Egypt that very night.
The gifts the wise men gave to Mary and Joseph would have helped them on their journey to Egypt as well as to set up housekeeping there. Mary and Joseph stayed in Egypt until King Herod died. Then they moved to Nazareth instead of returning to Bethlehem, because King Herod's son had become the new ruler in Herod's place.
Meanwhile back in Jerusalem, King Herod realized that the wise men had left without telling him where to find the child. But he was not going to let the matter drop. In his determination to kill the Christ Child, he sent orders to kill all the baby boys in Bethlehem and the surrounding vicinity.
Read the passage (Matthew 2:13-18) again to learn about the Bible prophecies that were fulfilled through these events.
For younger children The First Christmas, by Janice D. Green, illustrated by Violet Vandor.