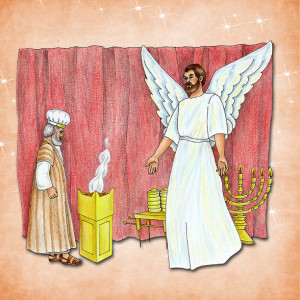 God sent his angel Gabriel to tell Zachariah, an elderly priest, that his barren wife Elizabeth was going to have a son in her old age. Read the story yourself in Luke 1:5-25.
This son would grow up to become John the Baptist. He like the Messiah was prophesied in the Old Testament in the book of Isaiah. The angel Gabriel told John how his son would prepare the Israelites for the coming of the Lord.
If you read the passage from Luke above, you know that Zachariah didn't really believe Gabriel at first. For this reason Gabriel told Zachariah that he wouldn't be able to speak until after the baby was born. Everything happened as Gabriel said it would, and John the Baptist became a great prophet who led the people to repent of their sins and to prepare their hearts for the coming Kingdom of God. You can read more about the birth of John the Baptist in Luke 1:57-80.
Today we would do well to remember John's message and prepare our hearts anew to meet the Christ Child in a spirit of repentance. How do you prepare your heart to draw near to Christ Jesus? Before we can truly enjoy fellowship with Jesus, we need to confess and turn away from any and all known sins in our hearts and lives.
This post corresponds to the second mini-story for children in The First Christmas by Janice D. Green. It is available here.