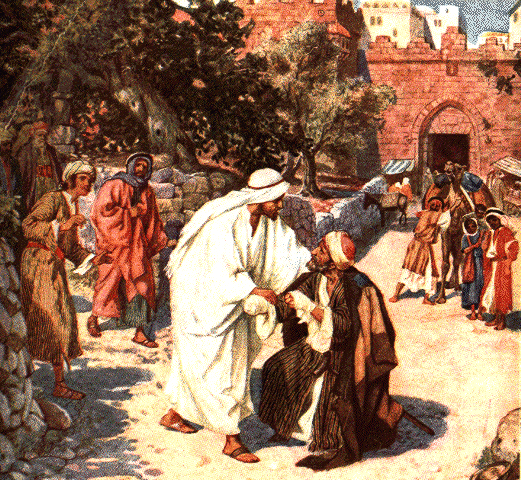 When Jesus began his healing ministry the people flocked to him seeking relief from various diseases and infirmities. So many came that he had to keep moving on to new and remote areas so he could share his teachings with more people.
Jesus had compassion on the people and willingly healed all who came to him. The people were eager to come for personal healing, but Jesus' overwhelming popularity would later change when they heard his teachings. The people were out to get what they could get so they would be more comfortable.
Do you want all Jesus has to offer you, or only what will make you comfortable today?
Mark 1:29-45
New Living Translation (NLT)
Jesus Heals Many People
29 After Jesus left the synagogue with James and John, they went to Simon and Andrew's home. 30 Now Simon's mother-in-law was sick in bed with a high fever. They told Jesus about her right away. 31 So he went to her bedside, took her by the hand, and helped her sit up. Then the fever left her, and she prepared a meal for them.
32 That evening after sunset, many sick and demon-possessed people were brought to Jesus. 33 The whole town gathered at the door to watch. 34 So Jesus healed many people who were sick with various diseases, and he cast out many demons. But because the demons knew who he was, he did not allow them to speak.
Jesus Preaches in Galilee
35 Before daybreak the next morning, Jesus got up and went out to an isolated place to pray. 36 Later Simon and the others went out to find him. 37 When they found him, they said, "Everyone is looking for you."
38 But Jesus replied, "We must go on to other towns as well, and I will preach to them, too. That is why I came." 39 So he traveled throughout the region of Galilee, preaching in the synagogues and casting out demons.
Jesus Heals a Man with Leprosy
40 A man with leprosy came and knelt in front of Jesus, begging to be healed. "If you are willing, you can heal me and make me clean," he said.
41 Moved with compassion,[a] Jesus reached out and touched him. "I am willing," he said. "Be healed!" 42 Instantly the leprosy disappeared, and the man was healed. 43 Then Jesus sent him on his way with a stern warning: 44 "Don't tell anyone about this. Instead, go to the priest and let him examine you. Take along the offering required in the law of Moses for those who have been healed of leprosy.[b] This will be a public testimony that you have been cleansed."
45 But the man went and spread the word, proclaiming to everyone what had happened. As a result, large crowds soon surrounded Jesus, and he couldn't publicly enter a town anywhere. He had to stay out in the secluded places, but people from everywhere kept coming to him.