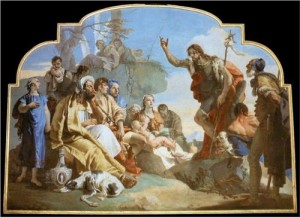 Have you ever felt jealous? I know I have. Maybe you love soccer, and it requires tons of practice for you to stay competitive while one of your teammates seems to score goals with ease. Perhaps you wish you could get by without studying for tests and still get good grades just like one of your friends. It's not always easy to be happy with the talents God gives us.
I see John the Baptist as one of those humble guys who was satisfied with the gifts God gave him and God's plan for his life. John's gift of words helped him prepare the people for Jesus. And he was a powerful speaker. In referring to John's ministry the Bible says, "People went out to him from Jerusalem and all Judea and the whole region of the Jordan. Confessing their sins, they were baptized by him in the Jordan River." (Mat 3:5-6) His gift of words was so great, that even though he told King Herod that it was unlawful for him to be married to his brother's wife, Herod enjoyed listening to him (Mark 6: 18, 20). Granted, this is what got him tossed into prison, but John is never shy about what he has to say.
As the ministry of Jesus takes off, people begin to flock to Jesus instead of John. His disciples actually complain to John about Jesus because they see the two ministries as being in competition with each other (John 3:23-26). John tells them, "…"A person can receive only what is given them from heaven…He must become greater; I must become less." (John 3:27, 30)
John realizes that his life is not his own. Instead of being jealous of his cousin Jesus, John humbly accepts that he must use his gift of words in a way that draws his followers to the Messiah. Let us pray that we can have humble hearts like John and happily accept the gifts God gives us and use them in a way that honors Him. They are the gifts He knows we need.
A short article for help on how to overcome jealousy can be found at http://christianity.about.com/od/practicaltools/i/overcomejealous_2.htm
To read today's Bible passage, click here and choose any translation you want.