A BIG THANK YOU to my friend Mary Seth Luoma for guest posting for me today: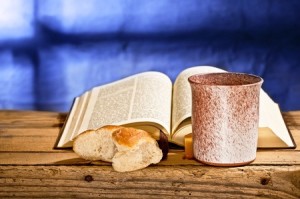 Mmmmm. What is better than a hearty, freshly baked loaf of bread warm from the oven? The smell alone will get you! Did you know that bread contains almost everything we need to stay alive? Water, yeast, honey, flour, and salt are enough to nourish us and provide life, growth, and health. Bread takes longer to digest than many foods and is, therefore, more satisfying and sustaining.
Jesus said in John 6:32 that "My Father giveth you the true bread from heaven" and in verse 35 goes on to say "I am the bread of life; he that cometh to me shall never hunger" and that (verse 40) God's will is that everyone who seeth the Son, and believeth on him may have everlasting life.
Stop a moment and think about what this means for us! EVERLASTING, NEW LIFE! Most of us would not even consider going one day without eating. Most of us don't skip many meals.
Are you partaking as often of THE Bread of Life? Do you spend daily quiet time with just you and God? This daily sustenance prevents our becoming spiritually malnourished. I am as guilty as most of not spending enough alone time with God. Life gets in the way if we let it. I challenge you and me to partake of Jesus each day by spending time in the Bible and in prayer. Let's allow Him to feed our souls so that we can live healthy, fulfilled, and satisfied lives.
God, through his son, Jesus, the living bread of life, and through His Word has given us everything we need to grow and develop as Christians. Let's watch God work. It will be amazing!!!! Blessings!
Read the full passage below:
27 But don't be so concerned about perishable things like food. Spend your energy seeking the eternal life that the Son of Man[a] can give you. For God the Father has given me the seal of his approval."
28 They replied, "We want to perform God's works, too. What should we do?"
29 Jesus told them, "This is the only work God wants from you: Believe in the one he has sent."
30 They answered, "Show us a miraculous sign if you want us to believe in you. What can you do? 31 After all, our ancestors ate manna while they journeyed through the wilderness! The Scriptures say, 'Moses gave them bread from heaven to eat.'[b]"
32 Jesus said, "I tell you the truth, Moses didn't give you bread from heaven. My Father did. And now he offers you the true bread from heaven. 33 The true bread of God is the one who comes down from heaven and gives life to the world."
34 "Sir," they said, "give us that bread every day."
35 Jesus replied, "I am the bread of life. Whoever comes to me will never be hungry again. Whoever believes in me will never be thirsty. 36 But you haven't believed in me even though you have seen me. 37 However, those the Father has given me will come to me, and I will never reject them.38 For I have come down from heaven to do the will of God who sent me, not to do my own will. 39 And this is the will of God, that I should not lose even one of all those he has given me, but that I should raise them up at the last day.40 For it is my Father's will that all who see his Son and believe in him should have eternal life. I will raise them up at the last day."
–John 6:27-40 (NLT)
Image credit: aaron007 / 123RF Stock Photo