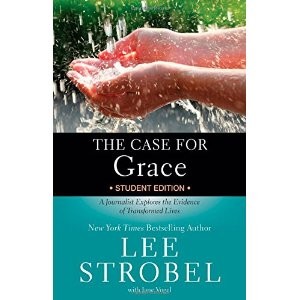 The Case for Grace: Student Edition: A Journalist Explores the Evidence of Transformed Lives 
Author: Lee Strobel
Board Book: 132 pages
Language: English
ISBN 13: 978-0-310-73657-8
List price: $9.99
Reviewed By: Janice D. Green
Rating: 
In The Case for Grace, author Lee Strobel bares his own soul as he shares his personal struggle with accepting the Christian faith, and more specifically understanding how grace is freely given to ALL who come to God in a spirit of repentance. Several different personalities are represented including backgrounds of extreme neglect, bitter rebellion, do-gooders oblivious to how they are missing the faith, and even from the most despicably sinful backgrounds imaginable, yet they all found grace and new life in Christ. This book is powerful, written for teens and addresses the kinds of concerns that are real to them.
But don't let the fact that it was written for teens prevent sharing it with adults as well. I felt it stirring my heart – and I'm a senior citizen who struggles to read long books. As I read this book, I considered adults I would like to send it to – adults who might not be willing to read any Christian book I gave them. The simplicity of this book makes me think maybe they would read it through.
I received a free copy of this book through the BookLook review program by Zondervan. I was in no way required to give a positive review.