Welcome to the Christian Authors Blog Hop & Giveaway!
December 7 – 11, 2015
Thank you for visiting my blog. Today, I am participating in the Christian Authors Blog Hop & Giveaway. From December 7 to 11, a group of Christian authors will share their thoughts on writing for the Christian market. "Hop" to each blog where there will be a chance to win great prizes. 
Christian Authors Blog Hop & Giveaway Schedule
December 7 - The Children's & Teens' Book Connection
December 8 - Books by Corine
December 9 - Bible Bites 4 Teens, Bible Quilts, and Honeycomb Adventures Press, LLC
December 10 - Midnight Fireflies 
December 11 - Cheryl's Christian Book Connection
Questions for Janice D Green, who blogs on
Bible Bites 4 Teens, Bible Quilts, and
Honeycomb Adventures Press, LLC
Please tell our readers a bit about yourself.
I am a retired elementary school librarian, a wife, mother, and grandmother, and a child of the King - the God who created the earth and the universe. I enjoy God's great outdoors, music, sewing, and many kinds of crafts. My husband and I hope to build a small, modest home using our own tools and the timber and other materials from our own property.
How long have you been writing for the Christian market?
I submitted my first manuscript/story to the United Methodist Publishing House in 1970 and was elated to see it published in a take-home Sunday school paper. I wrote a few more stories, but was sidetracked with family concerns so that I only submitted a few more times and stopped. I recently wrote and self published two Bible storybooks, The Creation and The First Christmas. I have written a manuscript for a picture book about Jonah, and I am also working on a middle grade novel that has an underlying Christian theme.
Name one challenge facing Christian writers today.
A serious challenge for many (myself included) is getting manuscripts submitted. It takes a lot of courage (or guts) to decide the manuscript is ready and put it in the mail. An author can spend hours poring over the Writers Market deciding who to send the manuscript to. And then the odds of getting the manuscript accepted is extremely low, especially for first time writers. We need to learn from our rejections, polish up our manuscripts and/or start new manuscripts and keep trying.
Do you write for other markets?
I have written several newspaper articles as a correspondent. I have also written an alphabet book in rhyme about nature, and a few children's stories that might work in the secular markets, though they are not published. I am also working on a middle-grade novel. Over the past few months I have been doing more blogging than writing for publication, as I have been re-thinking my goals for future writing projects.
What is one thing you would like readers to know about you or your writing?
For the most part, I write to build up self confidence in children and youth, as well as to encourage their faith in God and in the Bible. I am writing Bible Bites 4 Teens because I remember how difficult the teen years were for me. I have many personal regrets concerning my teen and young adult years, and I believe if I had been taught to take the Bible more seriously at that age I would have avoided many of those mistakes. I feel I have so much to share, though I'm still trying to find my voice.
My Bible picture books are The Creation and The First Christmas. My key goal in writing these books was to tell the events in a way that helps the child understand that they really happened, and they are not myths. They are also written in a way to promote discussions between the parent and child to help them remember what they learned. These books are available on Honeycomb Adventures Press, LLC.
One more thing… When I write picture books about the Bible, I encourage and provide instructions on a way to make Bible quilts using coloring pages that correspond to the pages in the picture books. Learn more about my Bible quilt ideas and how easy it is to make a crayon colored Bible quilt on my blog Bible Quilts.
Win a Blog Hop Giveaway Prize!!!
Terms and conditions to enter for prizes:
You must be 18 years of age or older to enter.
Contest starts on 12/7/15 and ends at 11:59 pm EST on 12/13/15.
Winner's names will be announced at each blog hosting a giveaway.
Additional restrictions may apply. See individual blogs for details.
VOID WHERE PROHIBITED.
I am offering a book to one reader through a random drawing of all readers who qualify by leaving a comment on this post according to the contest dates above. To qualify you must say which book you would like to win and why. Additional chances will be given for each comment relevant to the post on any blog post on: Bible Bites 4 Teens, Bible Quilts, or Honeycomb Adventures Press, LLC. Crude or derogatory comments will be removed along with the usual spam comments and will not be considered.
The winner may choose one of the following books for his/her own prize: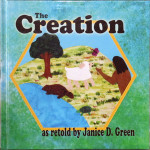 My first book, The Creation, retells the account of the seven days of creation as well as what happened with Adam and Eve in the Garden as recorded in Genesis 1-3.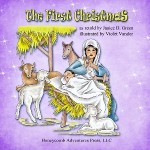 My second book, The First Christmas, retells the events that preceded and followed the birth of Jesus the Christ child. The accounts in both the book of Matthew and the book of Luke were used to create this narrative.
Sowing Seeds: Writing for the Christian Children's Market was written by Kathleen M. Muldoon, former writing instructor at the Institute of Children's Literature. This book is a resource treasure for anyone interested in writing for children and teens from a Christian perspective.
The winner for today's Blog Hop Giveaway will be announced on this blog on December 15, 2015. (Note extended date)
Congratulations to Angela M. Hawkins, winner of the Bible Bites 4 Teens blog hop prize. (update Dec 15, 2015)