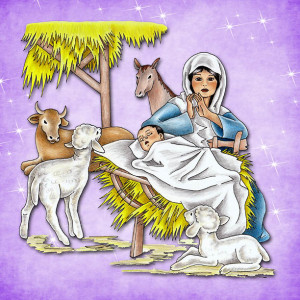 Read the two short verses that tell about Jesus birth in Luke 2:6-7. Joseph and Mary had to make do with the only shelter they could find in Bethlehem. Tired and exhausted, young Mary gave birth to the Christ Child and wrapped him snugly in strips of cloth. Then she laid baby Jesus on a manger bed which was probably filled with straw or hay for the animals to eat.
We have many unanswered questions about what it must have been like for Mary and Joseph that night. What kinds of animals shared the shelter? What kind of shelter was it? Many Bible scholars believe it might have been a cave. How clean was it? What might it have smelled like?
But a better question begs to be asked: What was it like for Jesus? Jesus didn't come into existence on the day he was born in Bethlehem. Jesus has existed since before the beginning of creation. Jesus was the Creator of all things. (See Colossians 1:16) He was there with God from the beginning of creation. But now, the God who created life itself found a way to squeeze himself into a tiny infant, and accepted the physical limitations of being human for thirty three years. He left his home in heaven with God (See John 6:38) to be born in a manger – where the lowly animals lived.
God came to earth as a tiny baby to grow up in a family with brothers and sisters and to live on our planet earth for a time. Mary and Joseph gave him the name of Jesus as the angel told them, but we are also given several other names in the Bible for him as well. One of them is Emanuel, which means "God is with us." Another is Savior because he came to save people from their sins.
How tired Mary and Joseph must have been that night, weary from travel with no comfortable bed to sleep in. Did they get any sleep, or did they simply marvel at the miracle they had just witnessed in the birth of Jesus the Christ child – God Himself, sleeping in a manger?
For younger children The First Christmas, by Janice D. Green, illustrated by Violet Vandor.