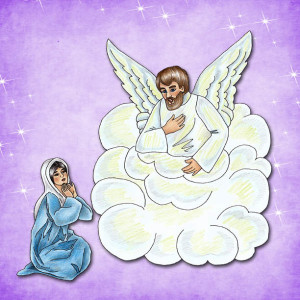 About six months after Gabriel delivered God's message to Zachariah, he came to earth again. This time he appeared to Mary saying "Greetings, you who are highly favored! The Lord is with you." Seeing the angel must have been alarming as he next calmed he by saying "Do not be afraid, Mary; you have found favor with God."
Gabriel then told Mary that she would give birth to the promised Messiah and that she should name the baby Jesus. You can read this account for yourself in Luke 1:26-38.
Wow! What a message for a young teen to receive. The Bible doesn't give us all of the details, but it is generally believed that Mary was likely in her early teens when Gabriel came to give her this special word from God. The angel's statement, "You have found favor with God," intrigues me. I wish I could have a window to see into Mary's heart. What was it that set her apart as the favored one? All we have to go on are these few verses.
Even though Mary questioned how she could have God's baby, she wasn't challenging Gabriel to prove it as Zachariah had done. She was only seeking understanding. Perhaps this glimpse is telling.
How many times do we question God with a spirit of "How could you let this happen?" How willing are we to let God be God? Do we accept what comes in our path, whether we like it or not, and trust God to "have our backs?"
As Mary faced the world in the next few months – a pregnant virgin – I'm sure the angel's words, "Fear not, you have found favor with God" came to her mind quite often. Knowing that she had found favor with God surely must have given her comfort that no one else could give her. Life as the Mother of Jesus was obviously not going to be a picnic, not because Jesus was an unruly child, but because the world would not accept him.
If we are true believers in Jesus, we too can cling to that sense of security as God's children, and trust that he is watching over us through everything we must pass through.
For younger children The First Christmas, by Janice D. Green, illustrated by Violet Vandor.